Description
In this UGC NET / SET / JRF Course, You Will Get:-
Unit 1 to Unit 10 – Complete Online Video Classes According to Syllabus ( 120 + Classes )
Notes/PDFs Available on OSN Academy App
Course Validity – 6 + 6 Months Free = 1 Year
Taught by Prof Anurag Agarwal – NET, Ph.D. MBA Qualified | 20+ Years Experience
Get Free Previous Years Paper
Get Free Rs 999/- Test Series – (1000+ Multi Choice Question)
View on Desktop – www.class.osnacademy.com
Offline Videos Download Option
Compatible for MOBILE (iOS & Android), TABLET, DESKTOP & LAPTOP
All the Key topics/10 Units Covered in the CLASSES
One to one interaction over the phone for doubt clearance
Live PSS (Problem Solving Sessions)
Career Guidance
OSN App is now having a smooth and great learning experience
Classes are very easy to understand and rich in content.
Time saver (Classes are very NET Eccentric and to the point)
Candidates with a Master's degree and a minimum aggregate of 55% marks (for General Category) or 50% marks (for SC/ ST category) are eligible for the UGC NET Exam 2022. In fact, those who are pursuing their Master's degree can also apply.
Size of Photograph — 10 kb to 200 kb
Size of Signature — 4 kb to 30 kb
Candidate must have
General/EWS – 55%, ST/ SC/ OBC/ PWD/ Transgender/ Ph.D Holders – 50% in Master's Degree or Equivalent Degree
JRF – 31 years, Assistant Professor – No Upper Age Limit
NET/SET/SLET shall remain the minimum UGC NET eligibility criteria for the recruitment and appointment of Assistant Professors in Universities/Colleges/Institutions.
UGC regulations and amendments, as notified under the Gazette of India will determine the exemption from NET/SET/SLET.
Note: Candidates who cleared the UGC/CSIR JRF examination before 1989 are also exempted from appearing in NET.
For SET Candidates:
Candidates who have qualified States Eligibility Test (SET) which is accredited by UGC for Assistant Professor that was held before 1st June 2002, are also exempted from appearing in NET, and they are also eligible to apply for Assistant Professor. (anywhere in India).
For SET held from 1st June 2002 onwards, the qualified candidates are eligible to apply for the post of Assistant Professor only in the universities/colleges from where they have cleared their state exams.
NO, Candidates need to have a master's degree to fill out the online application for NTA UGC NET
No restriction – Candidates can appear as many times as they wish till they are overage for JRF and for an assistant professor you can appear as many times as your wish
How to get Sample Online Video Classes?
Go to the End of this Page and Checkout the Course Curriculum
Demo | Click on Video Title
UGC NET JRF English Syllabus
Unit – I Drama
Unit – II Poetry
Unit –III Fiction, short story
Unit –IV Non-Fictional Prose
NOTE: The first four units must also be tested through comprehension passages to assess critical reading, critical thinking, and writing skills. These four units will cover all literature in English.
Unit –V Language: Basic concepts, theories, and pedagogy. English in Use.
Unit –VI English in India: history, evolution, and futures
Unit –VII Cultural Studies
Unit –VIII Literary Criticism
Unit –IX Literary Theory post World War II
Unit –X Research Methods and Materials in English
Many More Selected Candidates check out full profile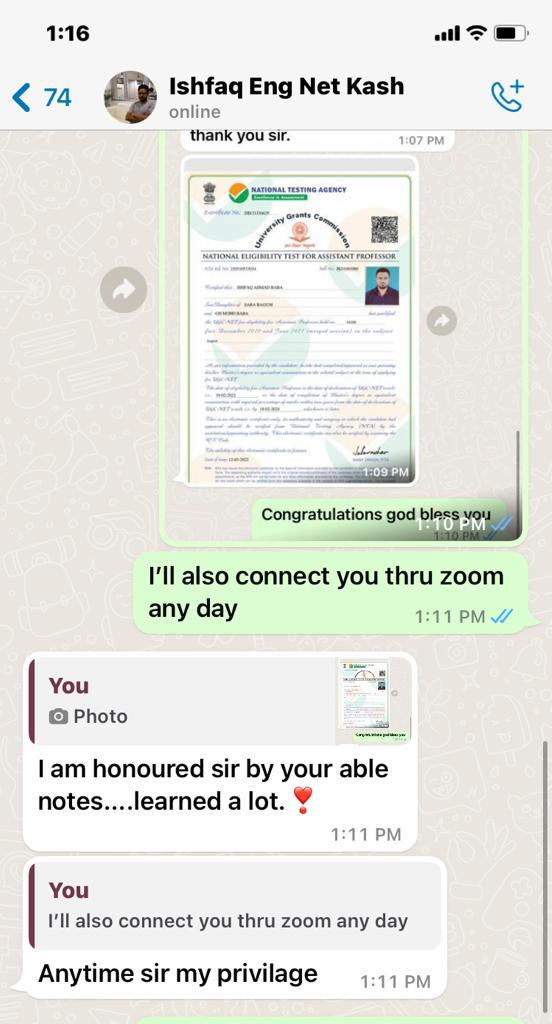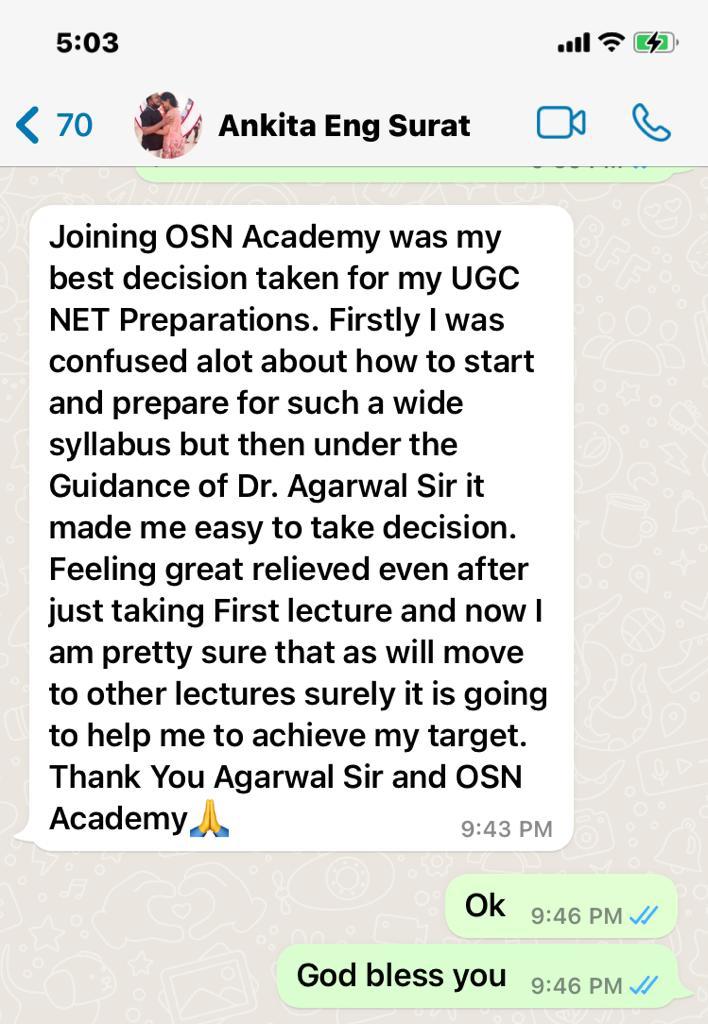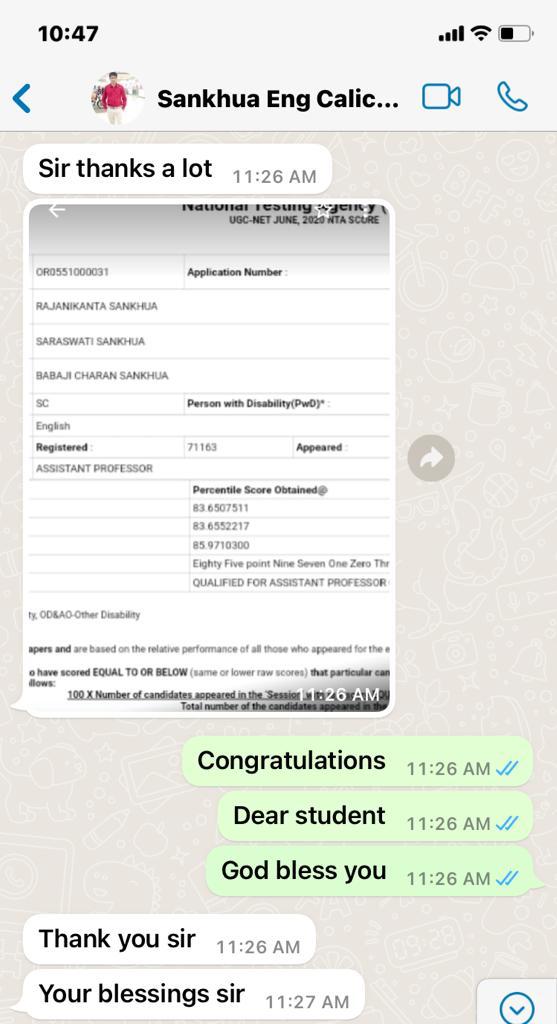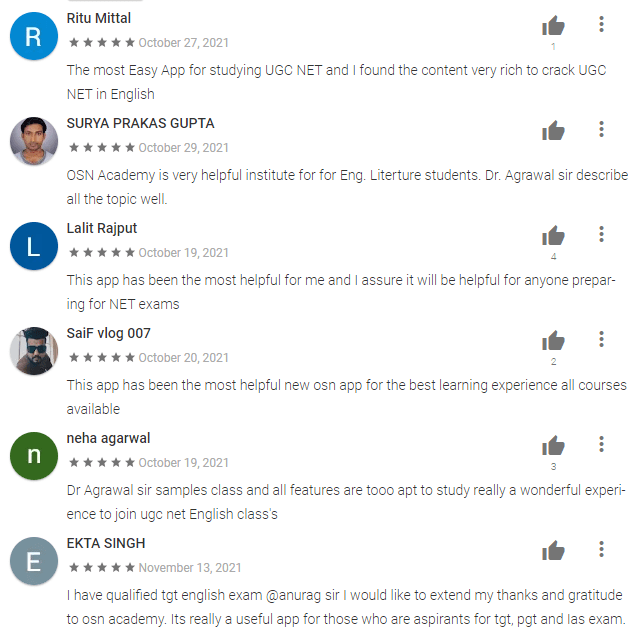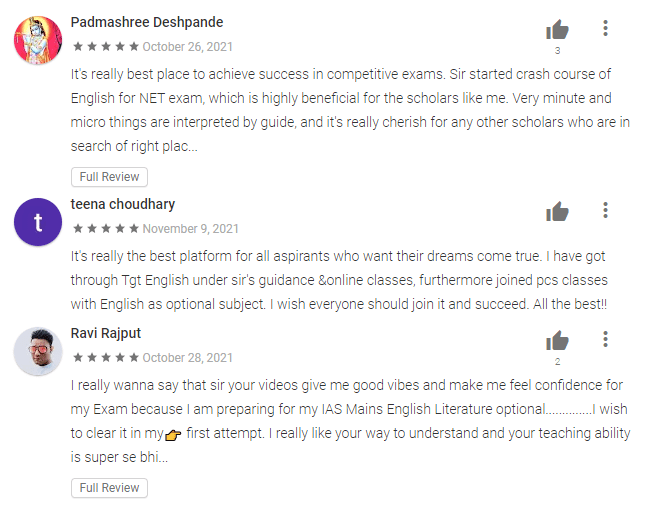 OSN Academy App – Google Review 4.7