OSN Academy Pvt Ltd offers an online video course for the IAS Mains English Optional, as well as hard copy study material, test series, and an answer writing package. We are aware of how important it is to prepare thoroughly and successfully for the UPSC Mains English Optional. To help you on your path to success. When you take our online video course, you will receive comprehensive information and direction on the Optional English Literature syllabus for UPSC. You can easily access the course from anywhere at any time with the help of interesting video lectures offered by Ex. Govt Professor Dr Anurag Agarwal.
Complete Study Material Books (Hard Copy) Send via Post within 4 to 6 Days
Study Material is Enriched with Prof Anurag Agrawal's vast experience of 20 yrs of teaching
The Syllabus is divided as given below:-
History of English Literature -Volume 1
History of English Literature -Volume 2
Section - A - Volume 1
Section - A - Volume 2
Section - B - Volume 1
Section - B - Volume 2
Special Book of Literary Terms
We provide you with individual study material which includes both section A and section B and Special History of English literature in 2 volumes covering the syllabus which gives a great opportunity to make students' backgrounds very easy to understand.
In this IAS Mains English Optional Video Course, You Will Get:-
Section A + Section B - Complete Online Video Classes According to Syllabus
Complete Study Material - (Hard Copy sent by Post)
Course Validity - 1 Year
Taught by Prof Anurag Agarwal - NET, Ph.D. MBA Qualified | 20+ Years Experience
View on Desktop - https://class.osnacademy.com/login
Offline Videos Download Option
Compatible for MOBILE (iOS & Android), TABLET, DESKTOP & LAPTOP
All the Key Topics Covered in the CLASSES
One-to-one interaction over the phone for doubt clearance
Live PSS (Problem Solving Sessions)
Career Guidance
Classes are very easy to understand and rich in content.
Providing a comfortable and nurturing environment - Students Reviews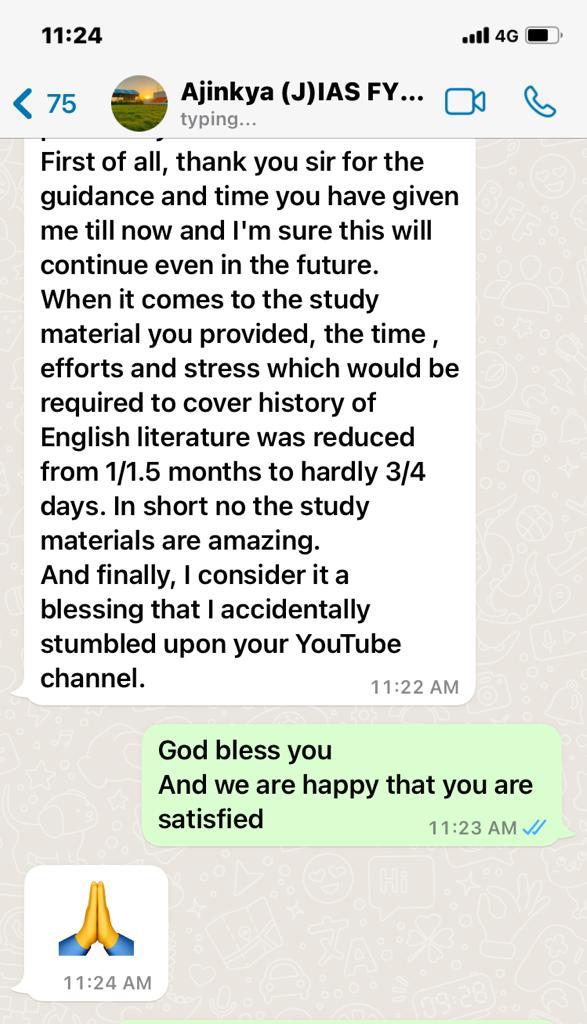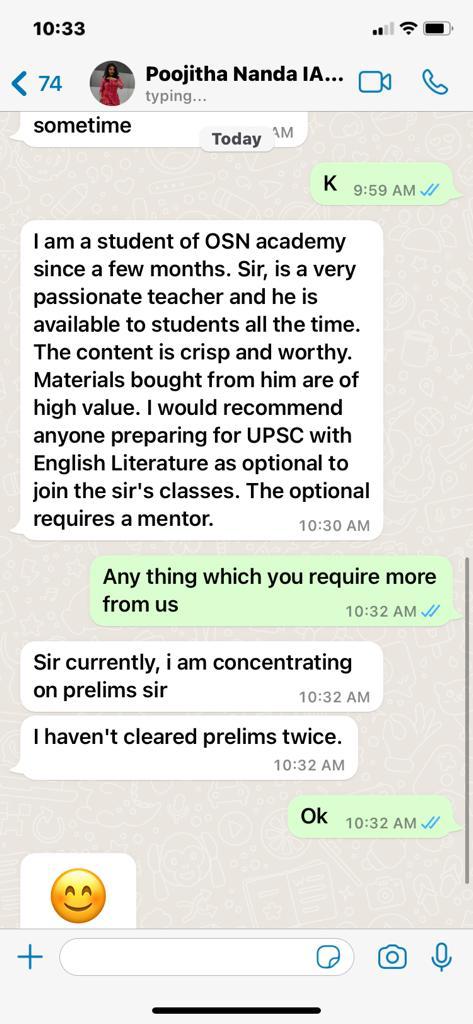 4.7 Rating - OSN Academy App - Review on Google Play Store




UPSC IAS Mains Optional English Literature Syllabus


English Literature Optional (Mains) - PAPER – I
Section-A
The Renaissance; Elizabethan and Jacobean Drama; Metaphysical Poetry; The Epic and the Mock-epic; Neo-classicism; Satire; The Romantic Movement; The Rise of the Novel; The Victorian Age.
1. William Shakespeare: King Lear and The Tempest.
2. John Donne. The following poems :
Canonization;
Death be not proud;
The Good Morrow;
On his Mistress going to bed;
The Relic;
3. John Milton: Paradise Lost, I, II, IV, IX
4. Alexander Pope. The Rape of the Lock.
5. William Wordsworth. The following poems:
Odeon Intimations of Immortality.
Tintern Abbey.
Three years she grew.
She dwelt among untrodden ways.
Michael.
Resolution and Independence.
The World is too much with us.
Milton, thou shouldst be living at this hour.
Upon Westminster Bridge.
6. Alfred Tennyson: In Memoriam.
7. Henrik Ibsen: A Doll's House.
Section-B
1. Jonathan Swift. Gulliver's Travels.
2. Jane Austen. Pride and Prejudice.
3. Henry Fielding. Tom Jones.
4. Charles Dickens. Hard Times.
5. George Eliot. The Mill on the Floss.
6. Thomas Hardy. Tess of the d'Urbervilles.
7. Mark Twain. The Adventures of Huckleberry Finn.


PAPER-II
Section-A
Modernism; Poets of the Thirties; The Stream-of-consciousness Novel; Absurd Drama; Colonialism and Post-Colonialism; Indian Writing in English; Marxist, Psychoanalytical and Feminist Approaches to literature; Post-Modernism.
1. William Butler Yeats. The following poems:
– Easter 1916
– The Second Coming
– A Prayer for my daughter.
– Sailing to Byzantium.
– The Tower. – Among School Children.
– Leda and the Swan.
– Meru
– Lapis Lazuli
– The Second Coming
– Byzantium.
2. T.S. Eliot. The following poems :
– The Love Song of J.Alfred Prufrock
– The journey of the Magi.
– Burnt Norton.
3. W.H. Auden. The following poems :
– Partition
– Musee des Beaux-Arts
– in Memory of W.B. Yeats
– Lay your sleeping head, my love
– The Unknown Citizen
– Consider
– Mundus Et Infans
– The Shield of Achilles
– September 1, 1939
– Petition.
4. John Osborne: Look Back in Anger.
5. Samuel Beckett. Waiting for Godot.
6. Philip Larkin. The following poems :
Next
Please
Deceptions
Afternoons
Days
Mr. Bleaney
7. A.K. Ramanujan. The following poems :
– Looking for a Causim on a Swing
– A River
– Of Mothers, among other Things
– Love Poem for a Wife 1
– Small-Scale Reflections on a Great House
– Obituary (All these poems are available in the anthology Ten Twentieth-Century Indian Poets, edited by R. Parthasarthy, published by Oxford University Press, New Delhi).
Section-B
1. Joseph Conrad. Lord Jim
2. James Joyce. Portrait of the Artist as a Young Man.
3. D.H. Lawrence. Sons and Lovers.
4. E.M. Forster. A Passage to India.
5. Virginia Woolf. Mrs. Dalloway.
6. Raja Rao. Kanthapura.
7. V. S. Naipaul. A House for Mr. Biswas
Educational Qualification:- MA (English), NET, Ph.D., MBA
Bio:- (Dr. Anurag Agarwal) A man of vision and an eminent scholar, with his outstanding acumen and dedication towards work, has shaped the lives of thousands of students. His foresightedness in curating the careers of the students is unparalleled. He is a man of distinct vision, a fountainhead of illuminating ideas, and an inspiration for all the students.